Making the decision to switch from a traditional standard bathtub to a walk-in bathtub is a great first step in ensuring your safety or the safety of your loved one. Not only that, it can provide seniors and users with mobility issues a way to bathe more independently.
The next big decision you must make is about the walk-in bath itself. There are a variety of available tubs out there, so it's important to consider all your options.
Walk-In Bathtubs for Seniors: What to Consider
According to the National Institute on Aging, more than a third of seniors slip and fall each year. 80% of those falls happen in the bathroom. Walk-in tubs for elderly users respond to this issue by promoting safety during baths.
Walk-in tubs are available at different price points and come with a variety of comfort and safety features, so choosing the right one will take careful thought. We've put together this list of questions to help you make the right decision.
How does my tub door open?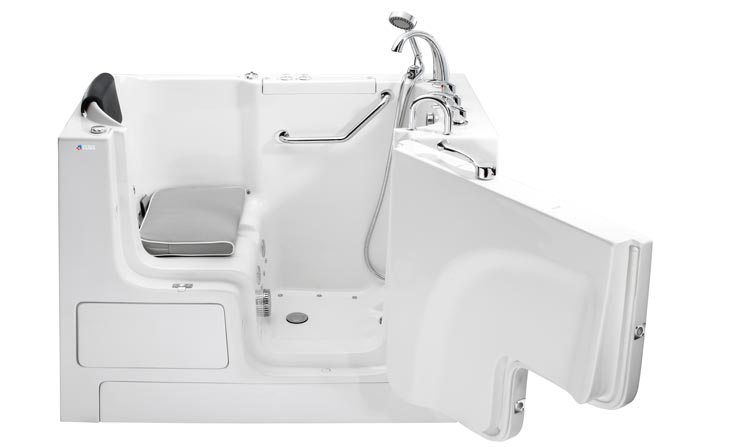 One main feature of a walk-in tub is the swinging door that allows the user to step in and out of the tub over a low threshold. This door must form a watertight seal once shut in order to keep the water contained in the tub.
When choosing tubs based on doors, you have the choice between inward swinging or outward swinging doors that are either left or right handed.
Inward Swinging Door
An inward swinging door is more common because water pressure from the bath helps keep the door sealed. You must keep all doors shut until the tub drains whether inward or outward swinging; otherwise, water will escape.
Outward Swinging Door
An outward-swinging door provides an easier transfer from a wheelchair. It is an excellent option for users that have limited mobility and those with special needs. It can work perfectly in a narrow bathroom space. Thus, walk-in bathtubs with outward-swinging doors are highly recommended by in-home healthcare professionals.
Does my walk-in tub have jets?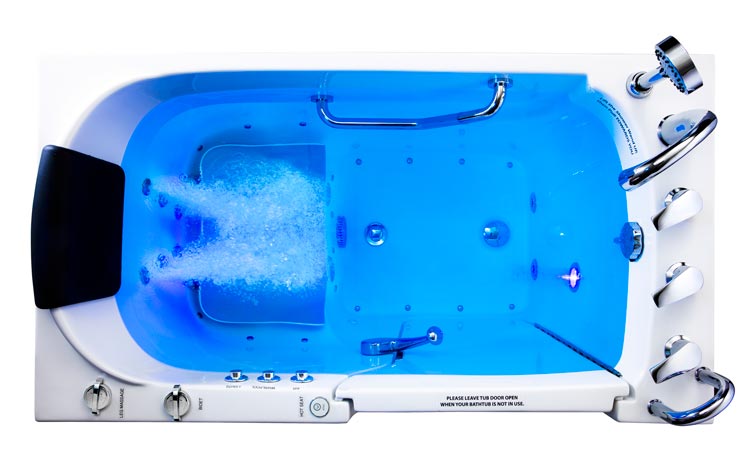 You can choose a new tub that comes with jets for added therapy benefits.
Jets are ideal for those with arthritis, back pain, knee pain, and other musculoskeletal ailments that can benefit from massage. While soaking in a warm bath already reduces pains, the pressure from massage jets will offer even more hydrotherapy benefits.
You may also choose a walk-in tub with other therapeutic system features, including
Microbubbles that invigorate the skin and remove excess dirt and oils.
Chromotherapy uses various frequencies of colored light to interact with the body.
Aromatherapy uses the healing power of scent to improve both physical and mental health.
No matter which therapeutic systems you choose, you can be sure that your walk-in tub goes beyond the bathing experience and can turn a simple bathroom into a rejuvenating home spa.
How big should my walk-in tub be?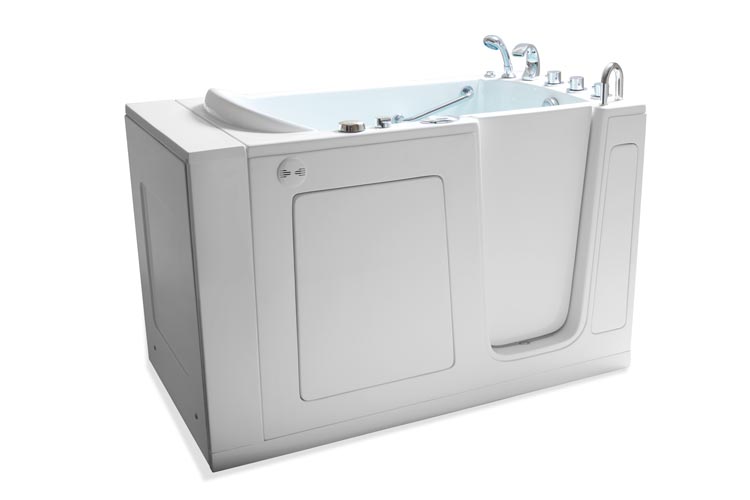 Walk-in tubs are manufactured in a variety of sizes, including compact sizes and extra wide. Handicapped-accessible bathtubs are also designed to be wider than the standard tub for wheelchairs.
When thinking about size, you'll have to consider stairs and doorways in the home. The installers will have to carry the tub to the bathroom through your home, so you should make sure that your tub can fit through the house and into your bath space. If you have narrow halls or doorways, you might want to choose a compact model.
The subfloor of the bathroom must also be strong enough to hold the tub. Depending on the model you choose, the walk-in tub may hold more water than a standard bathtub, so the weight will be significantly different.
Most walk-in bathtubs can be installed where your current tub is. However, if you choose a model which requires retrofitting for installation, you'll have to factor in the additional renovation costs.
Does my tub come with safety features?
Walk-in tubs come with a variety of safety features that should always be considered before making a purchase.
Low Threshold Entry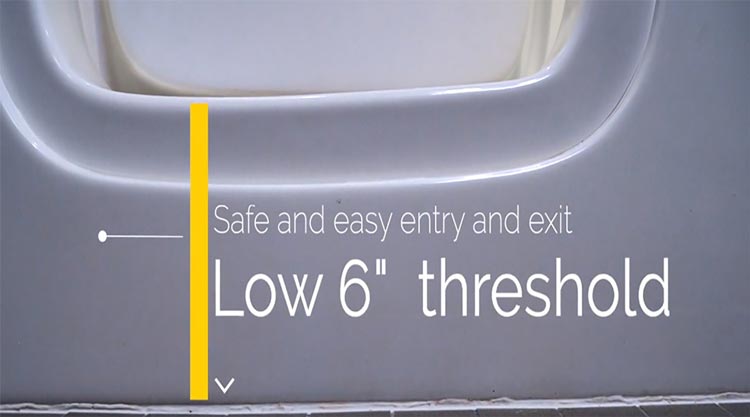 All walk-in tubs will have a low threshold entry, but how low it goes can vary between companies. The safest threshold entries are 6 inches tall, which means that someone could walk into the tub without lifting their knees too high and losing their balance.
Anti-Slip Flooring
As you know, slips and falls are most common in the bathroom because of sleek, wet floors. It's not just your bathroom tiles; your tub flooring also plays a huge role in stability. Anti-slip flooring means that the user can more comfortably move around in the tub without the risk of slipping during bathing, or upon entering or exiting the tub.
Built-in Safety Bars
Safety bars provide the user with more support when entering and exiting the tub. They also can help users adjust their bodies while bathing, which will reduce the risk of falling off the bathtub seat.
You can also consider other safety features such as:
Leak-resistant door drains that keeps water inside the tub where it belongs, not on the floor, and
High, ADA-compliant, contoured seats that reduce strain on the knees when sitting, allowing users to bathe more comfortably and independently.
Selecting the best walk-in bathtub for your bathroom is not a decision that should be made on a whim. You may have to work with a contractor to make sure the tub you choose will fit and that your subfloor is strong enough to hold it.
Always consider the user and the bathroom itself before choosing a tub. You may also check mini walk in tubs.
What's the most important feature of a walk-in bathtub? Let us know in the comments below!