According to the National Institute on Aging, more than a third of seniors slip and fall each year – and a full 80% of those falls happen in the bathroom.
Bathroom falls typically occur due to slipping on wet surfaces, climbing over the high walls of a standard tub, or both. To prevent slips and falls, walk-in tubs are an excellent solution for seniors and users with mobility issues.
What Are Walk-in Tubs?
Walk-in tubs are modified bathtubs that provide individuals with mobility issues with a safer and more convenient bathing experience. The most basic element of a walk-in tub is a swinging door that allows users to step in and out of the tub, rather than climbing in and out of it.
Other features like grab bars, bathtub seats, and detachable faucets can also be added to increase support and safety during the bath. They are typically intended for those who are elderly or handicapped and have a hard time entering and sitting in an ordinary bathtub.
Walk-in Tubs vs. Traditional Bathtubs
A traditional tub would require a user to lift their knee over the tub's edge and balance on one foot while they lift the other. It's this maneuver – combined with wet and slippery floors – that heightens the risk for falls in the bathroom.
Further, a traditional tub with its many obstacles doesn't make for a friendly experience for users who have mobility issues.
A walk-in baths does away with climbing in and out of the tub entirely, greatly reducing the possibility of falls. The best walk in tubs for elderly are equipped with a swinging door which allows users to enter and exit the tub with ease.
The user simply swings open the outward or inward swinging door and walks inside. Where before they might have needed assistance to get into the tub, walk-in bathtubs now allow seniors and handicapped individuals to bathe more independently.
The tub's doors have a watertight seal around the edges to prevent bathwater from leaking out. Once you shut the door, you can fill the tub as normal, and bathe inside like you would in an ordinary tub.
Walk-in tubs may also come with a number of safety and comfort features for users with limited mobility such as grab bars, bathing support harnesses, non-slip flooring and ADA compliant, contoured seating. These modifications vary with every tub, as they are tailored to each users' unique needs.
Compare Walk-In Tub Types
Standard Walk-In Tubs
These tubs are designed to fit any standard bathroom cutaways. That means that no matter what type of bathroom you have, as long as you have the standard cutaway, you can get a standard walk-in tub.
Standard walk-in tubs are also available with air and hydromassage systems and inward swinging doors. Our standard tubs are easy to maneuver through hallways, stairways and doorways, while also providing ample bathing space for a nice, deep soak.
Compact Walk-In Tubs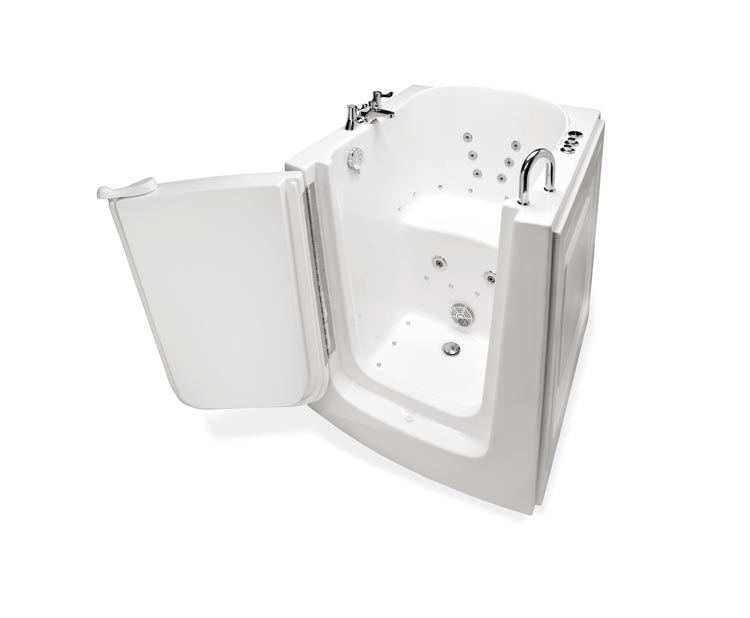 Compact tubs are designed for small bathroom spaces. Luckily, with our compact series, you don't have to compromise comfort for space. These tubs can fit in any ¾ bath and washroom. They're also easy to install and fit through most doorways!
With a unique length and width, the installment is easy for professionals. These tubs are an ideal option for petite individuals between 80 and 140 pounds and shorter than 5'6″.
Extra Deep and Wide Walk-in Tubs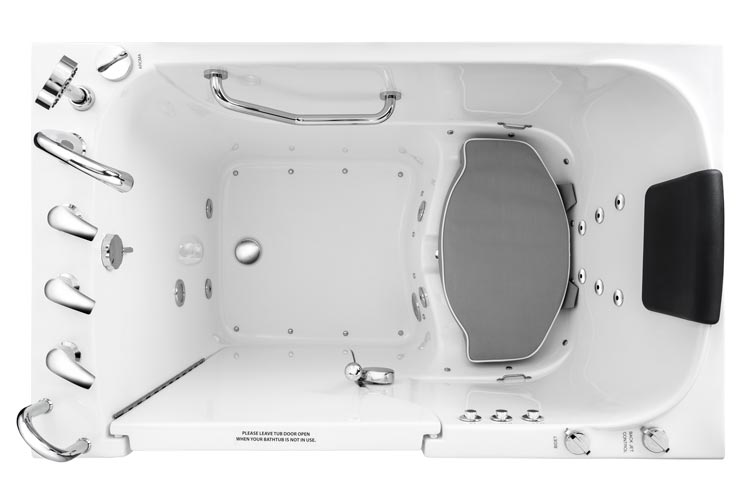 The extra deep and extra wide walk-in tubs offer a deep soaking experience with optional therapy systems for fully immersive bathing and a quick fill and drain time.
With a curved, large doorway for easy entry, these tubs also offer an extra-large seat for added mobility and comfort when soaking. The extra deep and wide tubs are ideal for large bathrooms.
Wheelchair Accessible Walk-in Tubs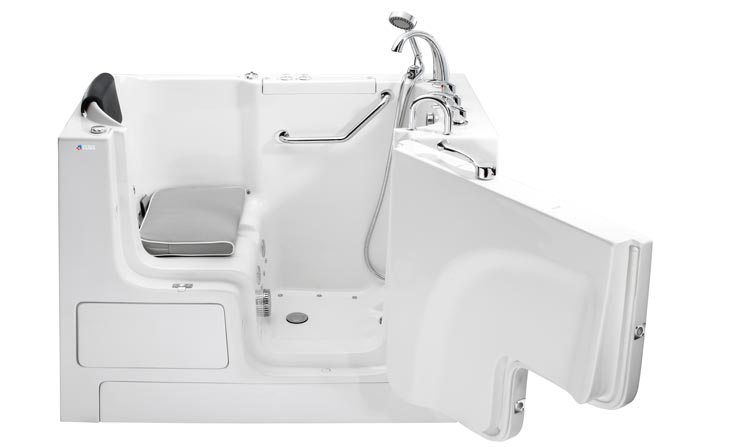 Wheelchair accessible tubs offer easy access, full-size, outward swinging doors and slide-in ADA compliant seating to make bathing easier for those with mobility issues.
With full seat access from the exterior, these tubs were specially designed to accommodate wheelchair users and individuals with special needs. The wheelchair accessible walk-in tubs are recommended by healthcare professionals as a long-term solution to bathing limitations.
With a 180-degree turn door handle and a quality locking mechanism, this tub is truly effortless, worry-free, and completely leak proof.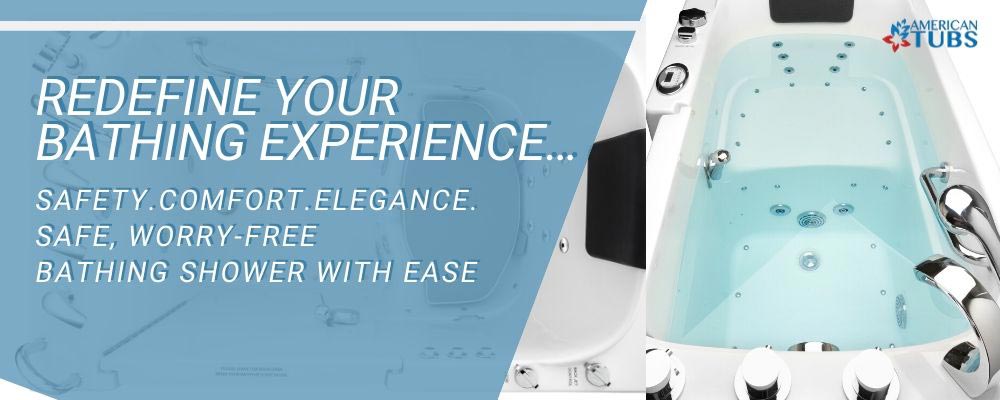 Features of Our Tubs
If you're considering handicapped accessible bathtubs for yourself or your loved one, it's important that you understand what you're signing up for. All of our tubs, no matter the type or model, share the same basic features.
Standard Features
User-friendly, ADA compliant design
Fiberglass shell
Triple gel coat finish
Stainless steel frame
Six adjustable levelling legs
Watertight vinyl door seal
Wall extension kit to fit up to a 60″ tub opening
Removable access panels
Safety Features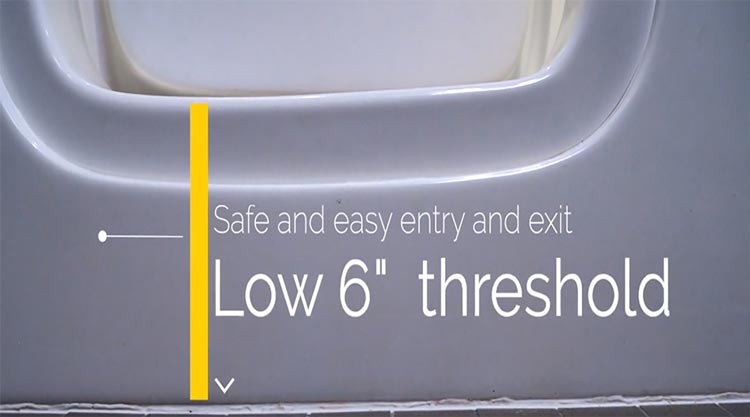 Low Threshold entry (6″)
Anti-slip flooring
Built-in safety grab bars and U-bar
Leak-resistant door drain
ADA compliant seating
Non-slip flooring
Optional Features
When it comes to choosing the right walk-in tub for you or your loved one, we believe you should be able to customize it to be just the way you want it. That's why we also offer these optional features.
Hydromassage for aching muscles and joints
Air Massage for improved circulation
Dual hydro and air massage
Leg massage
Bidet jet
Microbubble technology for deep pore cleansing
Chromotherapy
Aromatherapy
Ozone purification system
Invest In Your Future with a Walk-in Tub
Walk-in tubs are an important investment for elderly people and people with disabilities. Redefining your bathing experience with a walk-in tub will help you bathe independently, effectively, and safely, greatly improving your quality of life.
When shopping for walk in bathtubs for seniors, what features are most important to you? Let us know in the comments!