Safety. Comfort. Independence.
Redefine your walk-in bath experience
Your bathing experience redefined.
Everything you need for a refreshing spa-like experience at home.
Safe, worry-free bathing.
Bathtub Designed around peace of mind.​
Our newest walk-in tub has a built in door drain, non-slip flooring and a built-in seat that minimizes slips and falls when bathing.
Walk in bathtub with safety and security as priority.
If you are concerned about your safety when using a bath, rest assured that our senior walk-in tubs are made with your safety and security as our first priority. Each of our walk-in tubs is ADA-compliant, which means they meet the most important accessibility standards in the industry.
They also come with a safety U-bar and integrated safety bar options, which is designed for that added level of security when getting into and out of the bath.
Our walk-in tubs also have a low threshold of 6 inches. This makes navigating your way in and out of our tubs much easier than a standard bathtub series, which can have thresholds as high as 30 inches.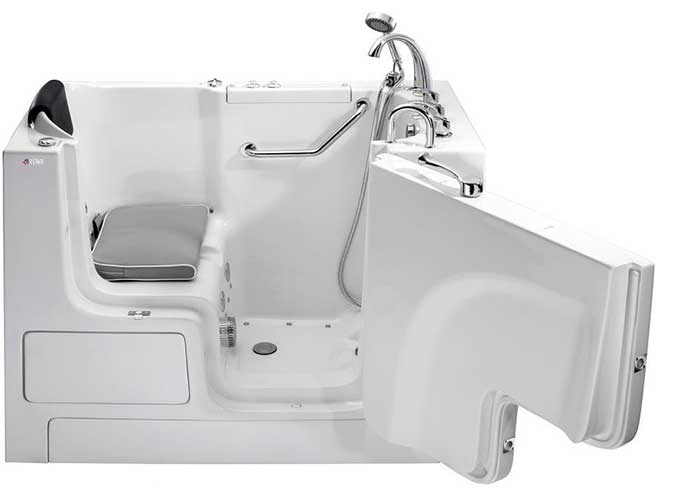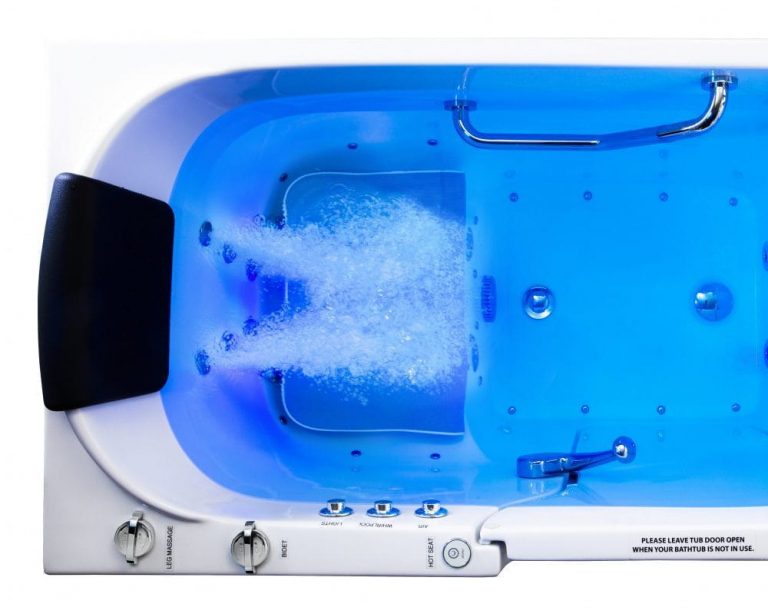 Systems and accessories designed
for your well-being.
Air, hydro, and micro bubble therapy systems create a bathing experience that soothes aching joints and bones. A spa experience in the comforts of your own home!
Walk in bathtub built for comfort.
The therapeutic features of our walk-in tubs can help alleviate many uncomfortable symptoms such as muscle tension, skin conditions, and everyday aches and pains.
The hydromassage system of our walk-in tubs is specially designed to bring comfort and relief to the body's pressure points and can provide a comfortable, yet invigorating massage options to your muscles and joints. The massage system comes with six adjustable microjets for your upper and lower back as well as four larger jets to target your knees and feet for a head-to-toe therapeutic experience.
Our walk-in tubs also offer a state-of-the-art air massage system, which uses 20 air jets to massage your entire body simultaneously. This system can also run a self-cleaning 'purge cycle' so that you don't have to worry about scrubbing the tub yourself.
Alongside our hydro and air massage features, you can also choose to heat your tub's seat, which will provide a very healing and rejuvenating bath. Our massage and heating features have been found to circulate blood flow, which has the potential to reduce inflammation and pains.
A customized experience that meets every need and user.
4 – 5 piece
faucet sets
, marine grade fiberglass shells,
glass shower doors
and more; Personalize your bathing experience with a variety of add-ons and
features
.
Chic and stylish walk in bathtub
Not only are our tubs safe and therapeutic, but they are also a beautiful addition to any bathroom. Across our four walk-in bathtub collections, you can be certain to find a chic and stylish option that suits your needs.
Our Compact Series is ideal for any bathroom that is short on space. The options in this series are just as beautifully crafted and comfortable as larger bathtub options but suit petite frames and tinier bathrooms. We also offer larger options for wheelchair users and those looking for an extra deep and wide walk-in tub series.
We ensure that our tubs have a triple gel coat finish and color uniformity to guarantee a beautiful and stylish appearance. Additionally, our aromatherapy and chromotherapy options provide a luxurious experience to rival any spa.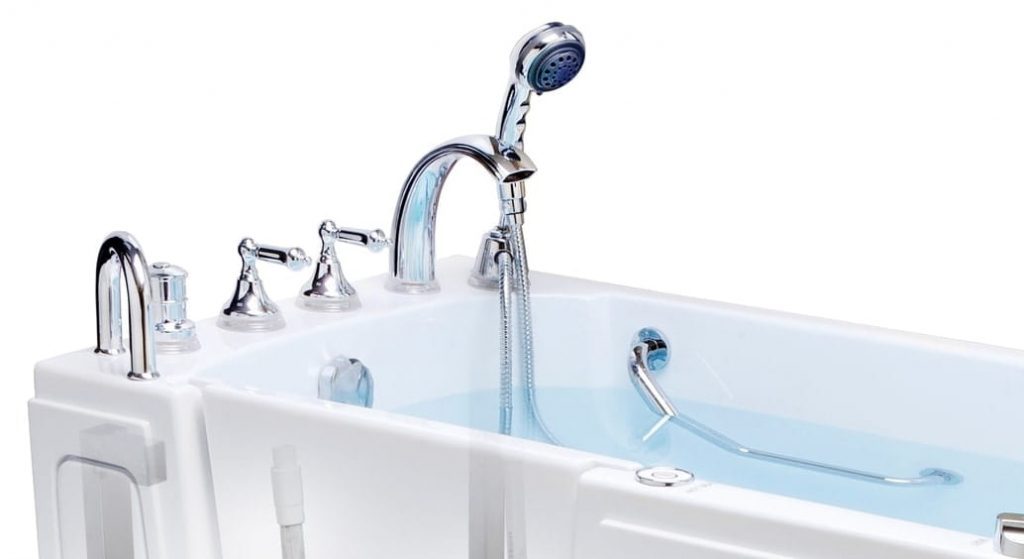 Features designed with every body in mind.
Find out how our bathtub can help you.
See what our customers have to say.
"We enjoy our new tub and shower. I love a bath, but it was getting hard to get in and out of the tub at my age. This tub makes it so easy and enjoyable again."
Don and Ida Rodgers
Davenport, IA
"My wife and I can take safe baths or showers with no worries of losing our balance and getting hurt. Thank you for a tub that functions great, looks great, and brings a smile to my wife's face."
Doris and John Tratwin
Rice, MN
"I love my walk-in tub! My 89 year old father lives with me and has back aches and body pain. He reports it really makes him feel great and he actually looks forward to taking a bath!"
Pamela Miller
Omaha, NE
"The tub is really all I expected it to be. I love it."
Elaine M. Friedel
Mitchell, SD
"We are very pleased with the dealer, installer and product. Everyone was very courteous and explained things very well. We could not be happier or ask for anything more. Thank you!"
Patsy Christiansen
Cumby, TX
"Beautiful product all around! It looks fabulous in my bathroom. My daughter was visiting during the install and she said the tub was a 'smart' design. The faucets are well made; you get a strong pressure from the jets; it drains quietly and quickly and I could not be happier with my decision. My daughter is now considering purchasing a tub from you as well. Thank you"
Beverly Newton
Wilmington, NC
"I just wanted to say how happy I am with our tub. It fits into the room very well, and the water feels wonderful and safe. Thanks so much for your help."
Paul and Noreen Trautwein
Upland, CA
Improve your bathing experience with our walk-in tubs.
When you purchase a walk-in bathtub from American Tubs, you will regain your safety, comfort when using the tub, and your confidence to independently enter and exit the bathtub. The diverse therapeutic features included in all of our tubs will improve your bathing experience and provide a daily dose of luxury.
When you choose to update your bathroom with one of our walk-in tubs, you will notice just how quickly the quality of your life improves. From alleviated aches and pains to feeling more independent and self-assured in your daily life, our bathtubs are designed with your needs in mind.

A nationwide network
of dealers and installers.
Installed in as little as one day.
Request a free in-home quote.