Did you know? The bathroom is one of the most hazardous places for senior citizens and those with physical limitations. Simple tasks like using the toilet or getting into the bath are made difficult, and can even put you at risk for falls and injuries.
However, by making a number of changes to your restroom with accessibility in mind, you can make it a lot easier and safer to accomplish everyday tasks.
If you're planning a bathroom renovation this year, check out this list of upgrades you can make to your bathroom, from adding grab bars to walk-in baths!
How to Make Your Bathroom More Accessible
1) Widen Doorways
Modifying the entrance to your bathroom can improve accessibility. A wheelchair-accessible bath doorway should be about 36 inches wide, while the standard entrance for most homes is only 24 inches.
When widening doorways, you'll also have to consider the handle on the door to accommodate a person in a wheelchair. You may have to lower it so that they can more easily turn the knob and get inside the bathroom. You should also consider changing the knob. Lever handles make it easier for the person in the wheelchair to grab and turn, which is ideal for those who find it difficult to grasp and twist objects.
2) Install Non-slip Flooring or Mats
Non-slip flooring will prevent slipping and falling, one of the most dangerous situations in a bathroom. While most slips and falls happen near the bathtub, there are other locations in the bathroom prone to water.
For example, when a person washes their hands, they may drip water onto the floor when reaching for a towel. Just a few droplets of water on tile can be extremely dangerous for those with mobility issues who won't be able to stop their fall.
Non-slip flooring and mats are available for any type of bathroom and situation. If you're worried about slips and falls in your bathroom, this could be a great way to make your bathroom more accessible and safe for everyone.
3) Attach Grab Bars in Strategic Locations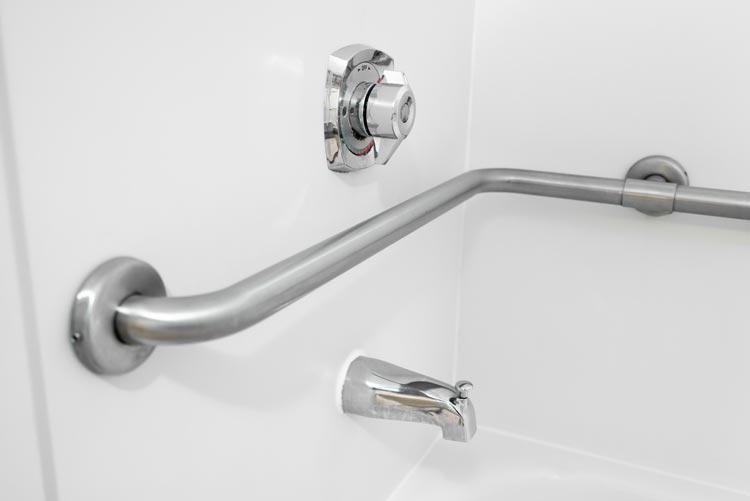 Bars can be added to the walls of the bathroom to help those who have difficulty maneuvering from place to place. These bars are nailed to the studs in the walls so that they can fully support the weight of the person. They can be useful for helping a person independently move around the bathroom.
For maximum use, you'll want to make sure that they are near the toilet and within the bathtub or shower. Areas, where a person will have to stand up or move their bodies, should all have grab bars.
You can also put grab bars along the wall to help those with mobility issues get from the toilet to the sink or from the door to the bathtub.
4) Consider Toilet Location and Height
Your toilet is an indispensable part of your daily routine, so it's one of the biggest things to consider when it comes to planning for bathroom accessibility. You should consider a location that enables easy access, especially for those in wheelchairs. This may also affect how your other fixtures are placed, so make sure to look at the bathroom's floor plan as a whole.
You should also think about the height of the toilet. This minor difference will affect how easy it is to get on and off the toilet and whether you're able to do it alone or with the help of a caregiver. If you have a limited knee bend, you can find toilets with a higher seat.
5) Switch to a Walk-in Bathtub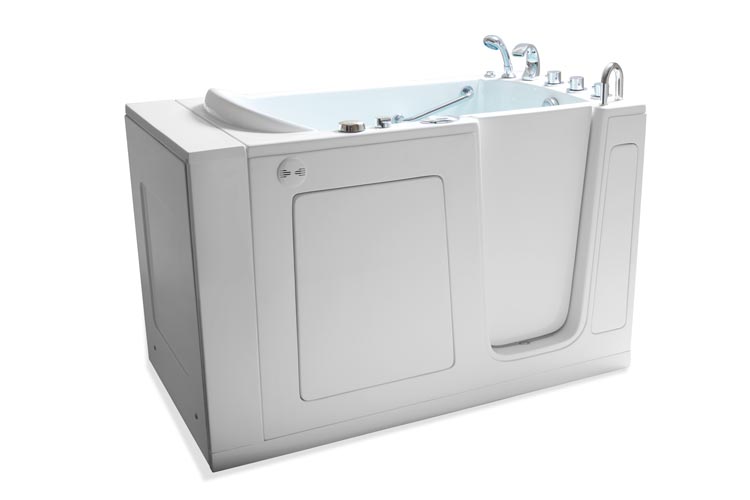 Another major feature you should turn your attention to is your tub. Consider swapping your current bath set-up with a walk-in tub for seniors.
The reason why walk-in tubs for the elderly and the handicapped are so popular is that they offer a low threshold. Because many slips and falls happen in the bathroom due to water from the tub, the low threshold of a walk-in bathtub can help you avoid accidents.
In addition, other safety features allow the user to bathe themselves safely:
Contoured ADA-compliant seats:

Contoured seats provide comfort for users with limited mobility. They're also placed much higher in the tub so that the user doesn't have to sit on the tub floor. Instead, they'll be able to walk in and sit down easily.

Safety U-Bar:

This allows users to easily maneuver in the tub to scrub all of those hard-to-reach places much more independently and safely.

Bathing harness:

A bathing harness is ideal for users who have caregivers assisting them as they bathe. This helps the user keep their balance in the tub as someone else washes them.

Non-slip flooring:

Non-slip flooring helps the user maneuver in and out of the tub to reduce the risk of slips and falls.

Emergency toe drain:

This is an added safety feature that allows for quick draining should the need ever arise.
6) Install an Adjustable Sink
When it comes to your sink, you have tons of options from wall-mounted to lateral and height-adjustable. If you're in a wheelchair and would like to wash your hands while on the toilet before moving back to the chair, you'll need to consider the appropriate height and distance for your sink.
Wall-mounted sinks have a pedestal underneath to offer flexibility while keeping the floor space clear. These sinks are also called floating hand basins, and they can be set at any height for one person or fitted onto brackets so that the height can be adjustable for different people using it.
They can also be fitted so that they can swing to the side to optimize access to other important bathroom fixtures. While these may seem like a great option, you'll have to ensure that your water supply and the waste system is flexible and properly installed.
7) Don't Forget the Taps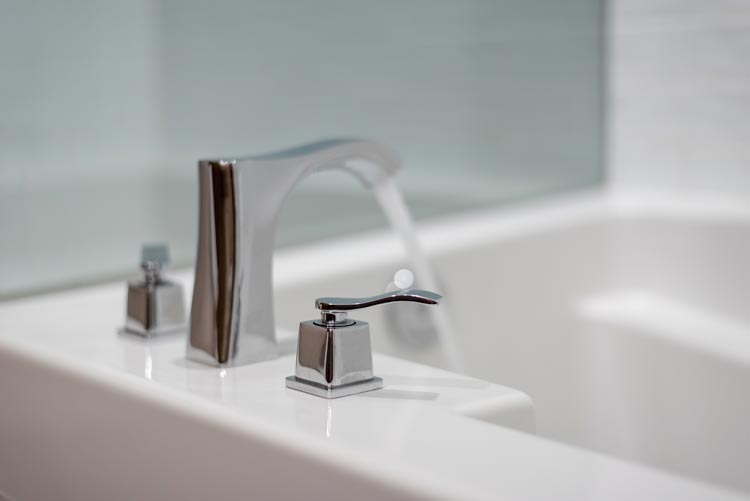 It's important that you also consider what types of taps to get. There are lever taps that tend to be the most user-friendly. However, you can also choose taps that are triggered by movement and do not need to be turned on or off physically. If you have limited dexterity, this can be extremely beneficial and make a simple task like washing your hands much more simple.
You could also look at thermostatic taps. These are controlled so that they won't exceed a preset heat and can be beneficial if you think you'll have a problem setting the correct temperature for your fixtures.
If you're looking to renovate your bathroom with accessibility in mind this year, you're in the right place. To get you started, contact us to get a quote for a walk-in tub today!