Muscle pain is something that affects all of us at one point in our lives. However, as we age, we'll experience more aches and pains. Whether you have arthritis or another condition, a walk-in bathtub can help reduce muscle pain and make your life more enjoyable.
In this article, we'll discuss the ways in which walk-in tubs for seniors can reduce minor aches and pains.
Benefits of Walk-in Tubs for Muscle Pain
Walk-in tubs for the elderly provide an immersive experience of warm water and heat therapy. Thermotherapy, also known as heat therapy, can be more useful than cold water or cryotherapy because muscle pain responds well to heat.
If you've ever strained your back before, odds are the doctor told you to put a warm compress on it to loosen it up and promote circulation to the area. The same is true for warm water therapy; only the water goes over your entire body to promote healing.
Muscle pains caused by overexertion, spasms, and knots are all types of problems that can be reduced with warm water therapy. Heat therapy is ideal for relaxation and helping reduce the pain associated with stiffness, cramping, and sensitivity.
Hot baths are one of the most effective treatments for these kinds of muscle pains. One reason for this is because it promotes circulation all over the body, which brings oxygen and nutrients to the damaged muscles and helps the body heal faster.
It will also provide mild pain relief all over the body, which can help the user continue with their day without extreme pain.
While standard baths can offer you the same heat therapy as a walk-in tub, it's important to choose the tub that's right for you or your loved one. A walk-in tub can offer you full immersion to target the entire body instead of only the lower half for even more relief.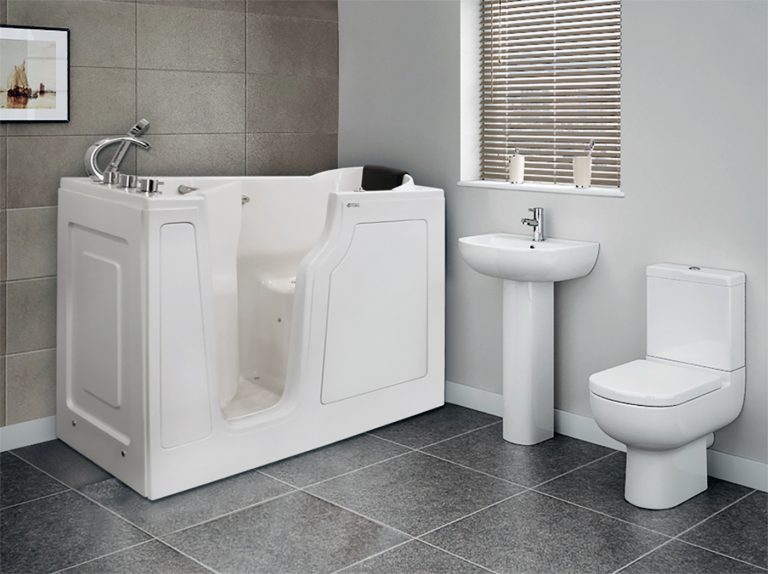 Similar to heat therapy and warm water therapy, water in itself can provide relief from aches and pains. Many doctors tell patients with arthritis and muscle pain to workout in a pool because it provides the user with buoyancy.
This same concept applies to walk-in bathtubs. When someone gets in a walk-in tub, they'll have a sense of weightlessness. This feeling can help decompress strained and aching muscles to relieve pain and soreness.
The best walk-in tubs are equipped with massage systems that can target specific areas of the body.
A hydromassage system can hit key pressure points to stimulate sore muscles and joints. It can also help loosen any knots that may be causing discomfort.
This type of massage paired with warm water therapy from a traditional bath can further reduce muscle pain and increase mobility in those with arthritis.
Air massage provides a light massage that can complement the hydromassage to promote circulation and a healthy lymphatic system. The lymphatic system is important when it comes to the muscles in your body because if it's not working properly, it can result in a build-up of waste products and toxins within the muscle to cause soreness, swelling, and fatigue.

For those suffering from diabetes or muscle pain in the legs, a leg massage system can work with the hydromassage feature so that you can choose to only massage your legs. You can also use this setting with the tub filled up only halfway so that you don't have to take a complete bath to get relief from aches and pains in your lower extremities.
This concentrated massage in the legs and feet can help circulate blood to crucial areas so that you can get relief after a long day.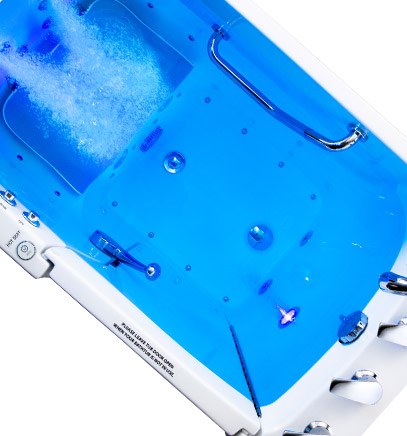 Aromatherapy is the use of scents to provide health and wellness to the body. Many walk-in bathtubs are equipped with an aromatherapy feature to provide you with more relaxation during your bathing experience.
Plant chemicals from essential oils can be used to reduce muscle pain when inhaled or applied topically. Some essential oils like peppermint have a muscle-relaxing effect that reduces pain in stiff muscle groups. Additionally, certain scents like lavender can alleviate the feeling of stress and improve your mood, which can also alter your perception of your pain.
One of the best ways to reduce muscle pain is to prevent more from occurring. Of course, the number one issue that many elderly people have with their standard tubs is that they pose a safety risk in entering and exiting the tub.
In fact, that's why seniors avoid tubs altogether and opt for stand-in showers. However, with showers, you miss out on all of the benefits of a walk-in tub, including the reduction in muscle pain.
With a walk-in tub, seniors will have a low-entry threshold so that getting in and out of the tub is much easier. Not only that, but walk-in tubs are designed with non-slip flooring to help provide the user with more traction when they get in and out of the tub. This means no more slips and falls that could cause further pain or injury.
By preventing injury and making use easier, seniors are more likely to use their walk-in tubs for the purpose of reducing muscle pain along with bathing more independently.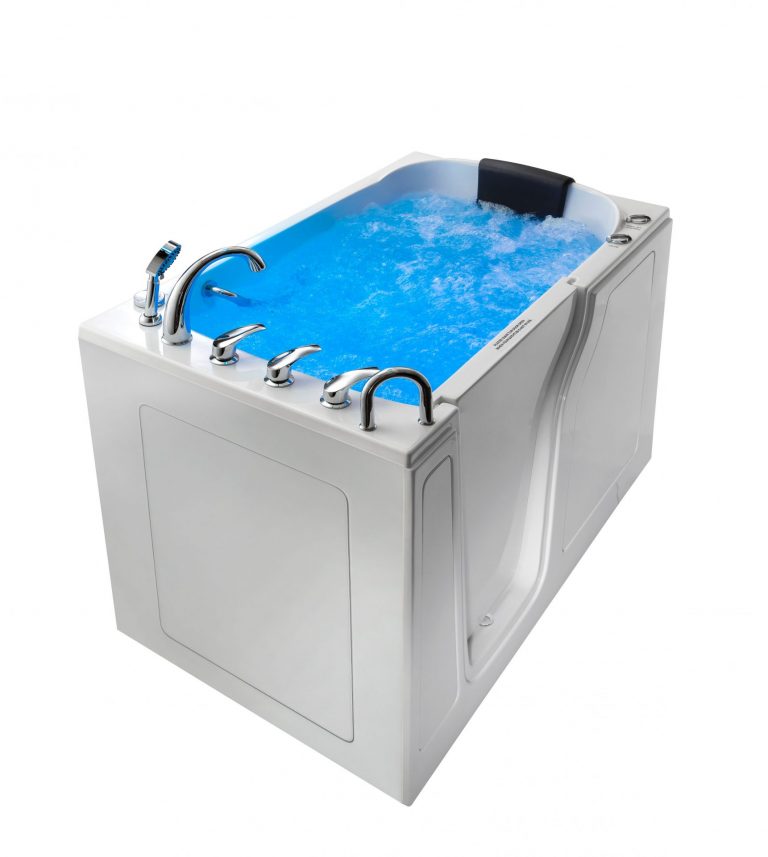 When it comes to choosing the right walk-in tub for you or your loved one, remember that not all walk-in tubs are created equally. If you're looking for a tub that can provide you with pain relief, make sure to look for the features we outlined above.
For more information on the right walk-in tub for you, visit the American Tubs website today.