If you have a small bathroom, you may be looking for a bathtub or shower option that will fit well and also give you everything you want and need in a tub. Walk-in bathtubs are very popular and are a great option for anyone who may have a hard time getting into a traditional bathtub. They are ideal for the elderly or anyone with a handicap, but they can be used by anyone who wants a comfortable and easily accessible bathtub.
Walk-in bathtubs can be a good option for anyone living in a retirement facility, nursing home, or a small apartment that doesn't offer a lot of bathroom space. If you are looking for the perfect walk-in bathtub for your home, and need one that can fit in a small space, you may be able to find it at American Tubs.
Who Needs Compact Walk-In Tubs?
Compact walk-in tubs are ideal for almost anyone. They can help make bathing safer and they take up a fraction of the space of a traditional shower or bathtub or even a larger walk in a bathtub. Here are a few reasons you may want to buy a compact walk-in tub.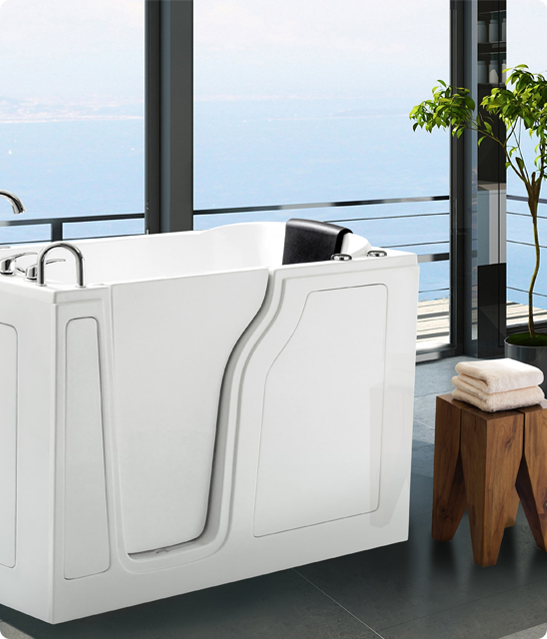 If you are renovating your home and are thinking about adding a new shower space or replacing your old tub, you may find the small size and easy installation of compact walk-in tub convenient. You can easily design your bathroom around these compact tubs, or you can add them to a bathroom with ease.
If you have a small bathroom and want a tub that doesn't take up much space, a compact walk-in tub may be the right option for you. If you have limited door clearance to get a new tub into your home, the compact size can also help with that. It can make your bathroom feel more spacious and give you more room to move around.

When it comes to installing a tub, you have to be able to get it into your home and your bathroom. If you have a narrow hallway or a small home, a compact walk-in bathtub will be easier to bring inside. It's much easier to move a compact tub around, and it takes less people to complete the installation.
People who are small and don't need a lot of space for a bath may prefer a smaller bathtub. It can also help make them feel more secure as there is less room to fall. Petite users will still find a compact tub spacious enough to allow them to bathe comfortably.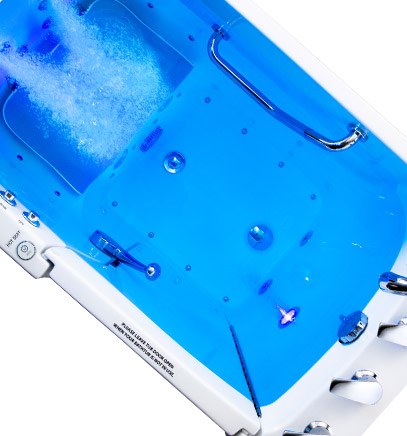 Advantages And Features Of Compact Walk-In Bathtubs
The main advantage of owning a compact walk-in tub is its small size. These tubs can go in many different places. They are easier to maneuver into place and they give you more options for planning the design or renovation of your bathroom. They can replace existing showers and tubs, or even be added to a bathroom that already has traditional showers and bathtubs installed.
A small walk-in tub means a slighter dent in your checking account. Compact walk-in tubs are a more affordable option for anyone who needs this type of tub but can't necessarily afford a full-sized one. This makes compact walk-in bathtubs ideal for anyone on a fixed income.
Walk in baths are designed to make it difficult for someone to slip and fall while they are trying to step inside. Small or compact walk-in tubs have textured floors and seats that allow everyone to get proper footing just like larger tubs. Their compact size also makes it harder to slip, as there is less surface area to slide on.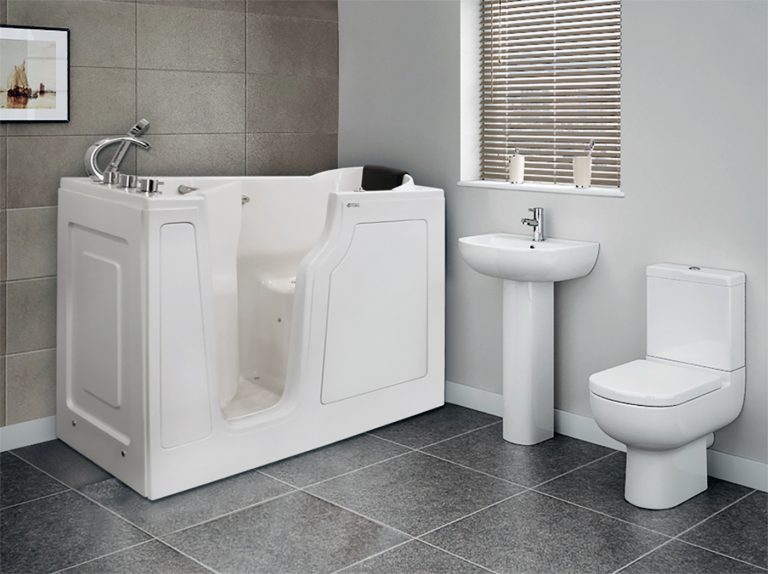 Compact walk-in baths have handrails that can be used to safely get in and out of the tub and also to hold on to while bathing. It can also help caregivers get some leverage when assisting a patient or client with their baths. These handrails are smaller than what you might find on traditional walk-in tubs so they don't take up too much space on the tub and are properly positioned in accordance with the smaller size.
Safety seats are included in walk-in baths. They prevent the person from falling down into the tub and help keep them safe during their bath. They are sturdy and comfortable and can help make baths more relaxing. Compact walk-in tubs have seats that take up the majority of the tub space so there is only a small stepping area. This helps reduce slipping and makes it easier for people to get in and out of the tub.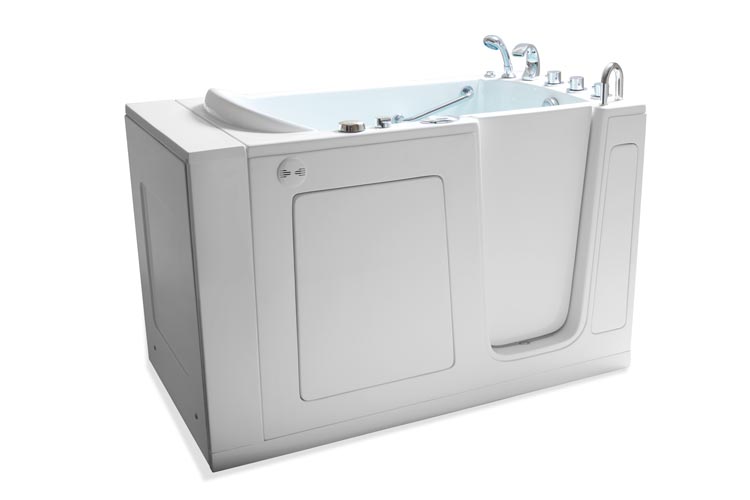 Get Your Compact Walk-In Tub Today
Compact walk-in tubs are ideal for many different living situations and allow you to enjoy all the benefits of a traditional size walk-in tub even if you only have a small space. If you are looking for the perfect walk-in tub for your small bathroom, you may have a lot of options.
American Tubs offers a variety of different styles that can fit any bathroom and fit any budget. We can help you pick out the right bathtub and make sure it has all the features to meet your needs. We can even help you if your Medicare will cover the cost of the tub.
You deserve a tub that makes you feel safe and comfortable at all times. Let us help you choose the right walk in-tub for your home, regardless of your bathroom size.