When it comes to designing a bathroom you should consider the personal preferences and needs of the person who will use it the most often. If you're thinking of renovating a bathroom for an elderly loved one with mobility issues, you have the opportunity to come up with a design that could radically raise their quality of life. Here's where you can go all out to add fixtures like walk-in bathtubs, grab bars, and others to make their bathing experience tailor-fit for them.
Read on for tips on how to design a bathroom for the elderly!
Things To Consider When Designing A Bathroom For Seniors
When you are designing a bathroom for a senior, you need to consider any mobility issues or health problems that the senior has that could affect how they use their bathroom. This will inform your decisions in making the bathroom safer and more comfortable for them, as well as what safety elements need to be added.
Here are a few things you should keep in mind when designing a bathroom for the elderly.

One of the most common ways an elderly person can get hurt while in the bathroom is slipping on the flooring. Bathroom flooring inevitably ends up wet, which provides little traction for your feet.
Elderly people are at risk of falling in many different ways. Some are not able to walk or stay balanced well, and others are short-sighted and unable to see wet spots on the floor. If an elderly person slips and falls in the bathroom, they could become seriously injured.
Non-slip flooring on the bathroom floor can help reduce the risk of a fall. Non-slip tiles or floor mats have textured ridges or bumps that increase friction and allow your feet to gain traction on the floor.
Many seniors have mobility issues that prevent them from being able to move around easily. It can be hard for them to get into the bathroom, up and down from the toilet, and in and out of the bathtub.
When you think about mobility and making it easier for someone with mobility issues to get around in the bathroom, you'll want to consider the distance between fixtures. Ensure that it will take the least effort possible to make it from the door to the sink, bathtub, and toilet.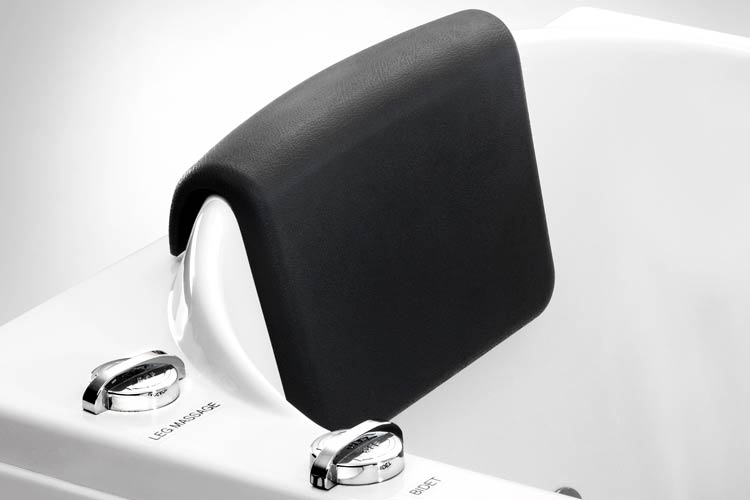 Bathing in traditional, high-walled bathtubs can be difficult for elderly people who have problems with mobility or muscle weakness. Seniors may not be able to lift their legs to get in or out of the tub, or they may struggle to stay sitting or standing while they bathe.
When designing a bathroom for an elderly person, consider installing soaking walk-in baths. These are much safer for the elderly. With their low-threshold entries, they are easy to get in and out of. They also feature seats inside so seniors do not have to stand.
Walk-in tubs include other features like harnesses, non-slip floors, fast-filling faucets, and quick drain features.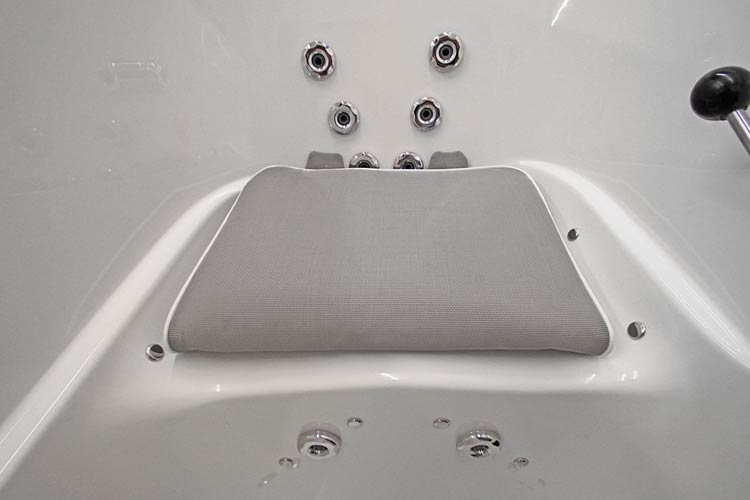 Many elderly people live in nursing homes, apartments, or retirement homes and don't have large bathrooms. They may not be able to fit in clunky fixtures or large pieces of bathroom furniture.
It's a good idea to find small pieces that fit in these kinds of bathrooms easily. You may want to choose wall-mounted sinks, compact walk-in tubs for the elderly, and toilets without external water tanks.
Also read How to Get Medicare Reimbursement for Your Walk-in Tub
Some elderly people have muscle weakness, which means they have trouble rising from seated positions in the tub or the toilet. This can also put them at risk for falls.
When you are designing a bathroom for the elderly, make sure to place grab bars throughout the room. Position them strategically so elderly users can easily reach out and regain their balance. Some good places for grab bars are inside your walk-in bathtub and next to the toilet.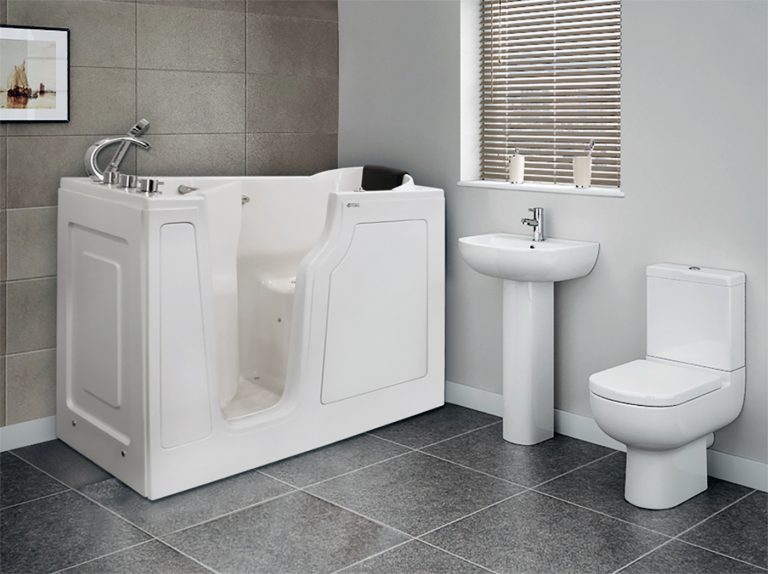 Some seniors require assistance when bathing. They may have a nurse or caretaker who will bathe them.
If you are looking for walk-in tubs for seniors with caretakers, make sure you choose one that offers the right features to make things easier. For example, walk-in tubs can come with harnesses that help caretakers easily maneuver the elderly user during bathtime.
When designing a bathroom for a senior, make sure you lay it out so the caretaker can move around easily and guide the senior around the bathroom with very little risk of falling.
Many seniors are on a fixed income and don't have a lot of money to spend on a bathroom remodel. If you need to design a bathroom for a senior to make their life easier, be sure to consider their budget.
In many cases, you can get Medicare reimbursements for walk-in baths and other bathroom features that your doctor may deem a health necessity. Check to see what Medicare options are available before you start buying things out of pocket, as it could help save some money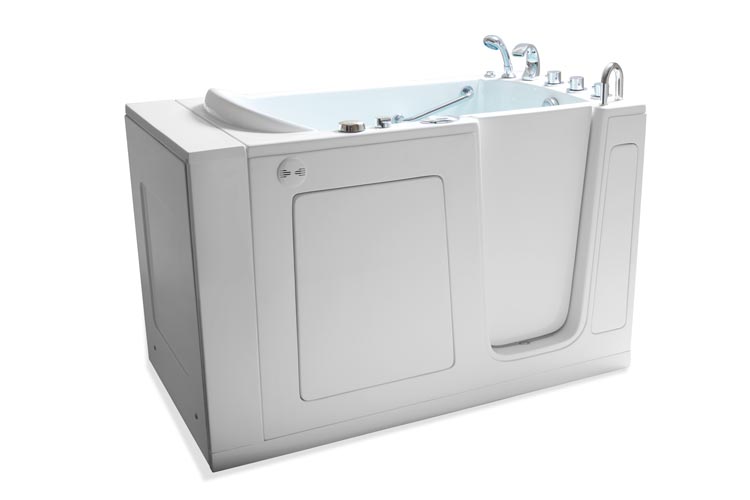 Keep the End User in Mind
If you have an elderly family member who needs help with a bathroom renovation, you need to be very deliberate about the design you come up with. Seniors have different mobility needs, space considerations, and budget constraints that you'll need to work around. A cookie-cutter bathroom design just won't do.
Be sure to consider adding a walk-in bathtub to reduce the risk of injury while bathing. If you are looking for the best walk-in tubs, be sure to check out the selection available at American Tubs.