CARE Series 3060 Soaker Walk-in Tub
"What a huge difference the walk-in tub has made for our Aunt to be able to safely bathe again. The whirlpool jets really make her legs feel better and have improved the circulation greatly. All in all, the bathroom is beautiful and so much more efficient than before. I just wanted to thank you for everything. What a great company you have!"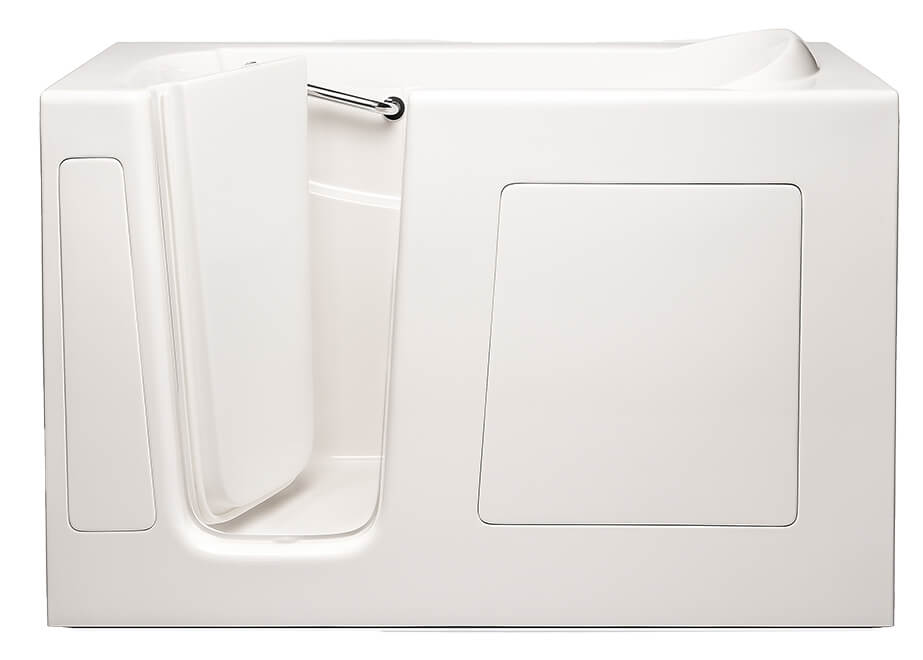 ---
Safety
The CARE 3060 is perfect for any retrofit homes that need a larger sized tub. It offers reliability in assembly and design. It comes with several, wonderful safety features to restore your confidence and allow you to experience harmony during bath time. With its wet surfaces and obstacles for seniors and those with mobility concerns, the bathroom can truly be a difficult space to move through. The CARE 3060 comes with a low 6″ threshold to counteract the standard 38″ threshold of a typical American bath tub. Enjoy the security of the V-shaped, watertight, lightweight, outswing door which allows for easy access to your bath while minimizing the dangers of a wet bathroom floor. Our ADA compliant, 17″ high seat allows you to feel safe and assured while you soak in tranquil, healing  waters. The non-slip, easy grip floor comes standard with each of our models, assuring that each bather can position themselves in the bath without fear of slipping. In addition, we offer a fully integrated, ergonomically designed safety bar and a mounted U-bar to assist you as you sit, stand, and adjust yourself in the bath. Your safety is the impetus behind everything we do at American Tubs. When you bathe in the CARE 3060, you will enjoy the safest, most comfortable and luxurious walk-in tub on the market.
Comfort and Convenience
It truly is our desire to provide you with the most comfortable and convenient experience when using the CARE 3060. We have designed this model to measure  30(W) x 60(L) x 36(H). This means that each time you bathe, you have ample room for movement and abundant water capacity so that you can adjust your water to a level that is perfect for you. In addition, we have designed your walk-in tub to ensure that your installation is as straight forward and stress free as possible. The CARE 3060 is designed to seamlessly replace your existing shower stall or bath tub. It comes with a standard 60″ wall extension kit to ensure that your new walk-in tub slots perfectly into your bathroom's floor plan . We offer a flangeless design with our tubs to ensure that you can preserve your current tile work. This also helps to cut the duration and cost of your installation. If needed, we also offer an adaptable tile flange kit for your convenience. We want your experience with us to be favorable and pleasant from start to finish. It is our goal for you to start to enjoy the liberating benefits of your new walk-in tub as quickly and efficiently as possible.
Quality
Quality is integral to our core values. We not only want you to feel safe and comfortable while you bathe, but we also aim to provide you with a long lasting, quality product that will enhance your daily quality of living. With this in mind, we construct each of our walk-in tubs with a one-piece stainless steel frame made of woven marine-grade fiberglass, which means that your walk-in tub is crafted with the strongest fiber glass on the market. Other walk-in tub companies manufacture their product with lower quality materials such as plastic or acrylic, which crack and degenerate more quickly. This is not the case when you invest in one of our walk-in tubs. In addition, we coat your CARE 3060 with a triple gel coat finish which is not only extremely durable, but it also makes your bath tub easy to clean. Our walk-in tubs can be ordered in either biscuit or white: colors that match virtually any existing bathroom décor. With 6 adjustable, levelling legs, your walk-in tub can be modified to a level that is perfect for you. Quality goes into every aspect of your CARE 3060, from its design, to its construction, and finally to its installation, assuring you that you have invested in the highest quality walk-in tub on the market.
Fixtures and Fittings
We have several elegant and expedient features which come standard with your CARE 3060. This walk-in tub is manufactured with a beautiful and resilient chrome plated faucet set, which is fitted with easy to use hot and cold water handles alongside a user-friendly diverter. The multifunctional, adjustable, and extendable hand-held shower handpiece comes standard so that you can shower as well as bathe. Additionally, our anti-scald faucet system ensures that the water temperature remains just right to avoid burns. Our walk-in tubs come equipped with a 1.5″ cable operated drain making draining the tub effortless. The integrated door drain keeps the door threshold free of excess, hazardous water. Most buyers opt for our patented 2″ Hurry Drain which enables your tub to drain in roughly 110 seconds, depending on water level and the efficiency of your household plumbing. We have designed our walk-in tubs with fixtures and fittings that are not only easy to use, but that also provide you with a brilliant experience, every time you bathe.
Customize
Personalize your CARE 3060 with amazing spa features. Experience our Dual Air and Hydro Massage unit which combines 10 powerful hydro jets with 16 exfoliating air jets to alleviate joint and back pain and promote circulation. We also offer Chroma and/or Aroma Therapy to promote both mental and physical well being. Different colors and scents have been proven to affect our circadian rhythm and our moods. Chroma therapy uses various colors of light and aroma therapy uses various smells to stimulate the circulatory system, calm pain, and promote peace. Please visit our features page to view more options. We are happy to offer customizable options to suit our individual customer's needs and to promote health and vibrant living.
Specifications
| | |
| --- | --- |
| Actual size (W x L x H) | 30″ x 60″ x 38″ |
| Shipping size (W x L x H) | 31″ x 63″ x 40″ |
| Seat Height | 17″ |
| Seat Width | 24″ |
| Seat Depth | 14″ |
| Door Opening Width | 18″ |
| In-side length | 46.5″ |
| Water Capacity (Gal.) | 75 |
| Colors Available | White / Biscuit |
| Door Opening / Drian | Left or Right |
| Wall Tiles Flange | None (easy-to-install) or 2 sides |
---
---