CARE Series 3054 Soaker Walk-in Tub
"My wife responded so well after her first bath with those fantastic water jets. She needs surgery on her back, so she doesn't get around very well. When she does walk, it's with a walker. After bathing in our walk-in tub, she felt so much better that she walked all the way from the bathroom, down the hall, through the den to the table – unassisted! It made me feel so good."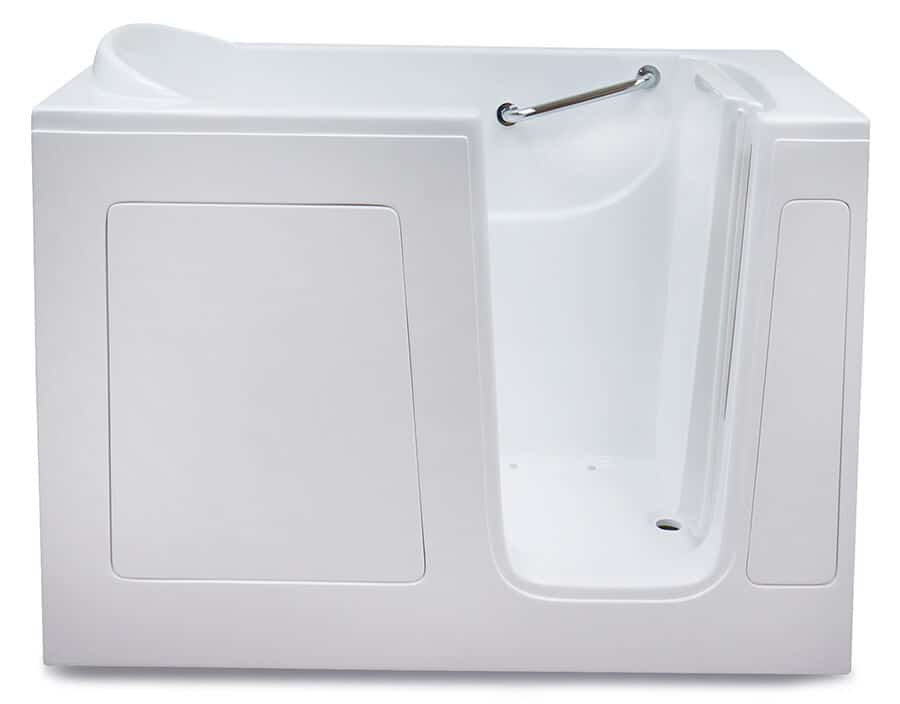 ---
Safety
The CARE 3054 is perfect for any retrofit homes that need a common and often used design to allow for a seamless, efficient installation. It is our most common tub and offers reliability in assembly and design for any newly constructed home that needs a basic but well made tub that will last a lifetime. Furthermore, like all other American Tubs models, the CARE 3054 has been constructed with your safety at the heart of its design. Wet surfaces in bathrooms create hazards for anyone, particularly seniors and those with mobility concerns. Therefore, we have engineered the CARE 3054 with an ergonomic, user-friendly design to help you avoid preventable injuries in the bathroom. This model is constructed with a water-tight, inswing, V-shaped door that allows generous clearance to the tub's seat and has a long, slender door handle that requires minimum grip for easy use. The CARE 3054 also comes with an integrated, interior grab bar, a mounted U-bar, and a non-slip, textured floor for added security. The CARE 3054 is designed to ensure that individuals experience a safe and satisfying bathing experience which will leave them feeling relieved and refreshed.
Comfort and Convenience
For spaciousness and maneuverability, this model measures at 30(W) x 54(L) x 38(H) which allows for ample water capacity and room to recline, to unwind, and to let the water envelope you as you enjoy a relaxing soak in the sanctuary of your walk-in tub. This model also contains a comfortable, contoured seat, measuring 23″ wide, and nestled inside the tub to enhance your ability to relax while you soak away the day's cares. To ensure easy installation, the CARE 3054 is designed to replace your existing bath tub or shower stall, and it comes with an extension kit to perfectly fill a standard 60″ opening. Furthermore, the flangeless design allows you to preserve your existing tile work, saving both time and money on your installation. An optional tile flange kit can be requested for new tile or surround, ensuring your bathing area is water tight. We aim to provide you with a simple and worry free installation and a bathing experience that is optimal for you and your budget.
Quality
Creating a high quality product that is safe and luxurious is our mission. We take pride in offering our customers the very best walk-in tubs on the market. The CARE 3054 is constructed with a sturdy, one piece, stainless steel frame with 6 adjustable leveling legs to ensure that your bath tub has excellent alignment and balance. This model is also manufactured with the finest, woven, marine-grade fiberglass composites on the market today. This ensures that your bath tub is made of materials of the highest strength and durability. We finish this model with a triple gel coat finish. This is a wonderful feature which not only makes your bath easy to clean, but it also provides a resilient finish that will last a lifetime. In addition, to provide a standard color scheme, the CARE 3054 walk-in tub comes in either biscuit or white. These are colors that brilliantly blend with virtually any existing bathroom décor. You can be sure that when you bathe in the CARE 3054, you are bathing in the highest quality walk-in tub on the market.
Fittings and Fixtures
The CARE 3054 is manufactured with a beautiful and resilient chrome plated faucet set, which is fitted with easy to use hot and cold water handles alongside a user-friendly diverter. The multifunctional, adjustable, and extendable hand-held shower handpiece comes standard so that you can shower as well as bathe. Our walk-in tubs come equipped with a 1.5″ cable operated drain making draining the tub effortless. The integrated door drain keeps the door threshold free of excess, hazardous water. Most buyers opt for our patented 2″ Hurry Drain which enables your tub to drain in roughly 110 seconds, depending on water level and the efficiency of your household plumbing. We aim to make your bath time a sanctuary of health and healing, which alleviates stress and worry. Read on to see how you can complement our standard fixtures and fittings with more personalized options to optimize your bathing experience, making it perfect for you.
Customize
The CARE 3054 is customizable with any of our added, comfort features. Relieve muscle and joint pain with our Hydro Massage system which targets specific areas of the body including the lower back, calves, and bottom of the feet. We also offer an Air Massage System equipped with 20 state-of-the-art jets. This system offers a lighter massage which is beneficial for nerve endings and promotes healthy circulation. You may also enjoy our Chroma and/or Aromatherapy options which promote healing and a sense of well being. In addition, we provide an optional, maintenance free Ozone Purification System which sanitizes your walk-in tub's surfaces and massage system piping, eliminating potentially harmful bacteria and leaving your walk-in bathtub clean and fresh for its next use. Visit our features page for additional options that can give you your own, unique, healing, and invigorating bathing experience, every time you bathe.
| | |
| --- | --- |
| Actual size (W x L x H) | 29.5″ x 54″ x 38″ |
| Shipping size (W x L x H) | 31″ x 55″ x 45″ |
| Seat Height | 17″ |
| Seat Width | 23″ |
| Seat Depth | 14″ |
| Door Opening Width | 18″ |
| In-side length | 46.5″ |
| Water Capacity (Gal.) | 70 |
| Colors Available | White / Biscuit |
| Door Opening / Drian | Left or Right |
| Wall Tiles Flange | None (easy-to-install) or 2 sides |
Features
Tub Shell (gel coated fiberglass)
High-quality fiberglass material
Excellent color uniformity
Durable gel coat surface
Easy-to-clean high-gloss finish
Door sill with silicone rubber seal
Wall extension kit to fit any standard 60″ tub opening
Removable access panel
Safety Features
Anti-slip floor
Built-in safety bar
Leak-resistant door drain
Light-weight movable door
Optional Features
Therapeutic Air Massage System
Twenty (20) all brass chrome air jets
110V – 120V Standard Plug-in, 1hp Hydro Pump
Pneumatic push control, chrome colored
Hydrotherapy Massage System
Six (6) adjustable direction hydro jets
110V – 120V Standard plug-in, 1hp hydro pump
Pneumatic push control, chrome colored
Faucets
Faucet with hand shower is mounted on the deck of the tub.
Five (5) piece brass roman faucet in chrome color
Jewel arched solid brass spout
3/4″ Valve, 3/4″ ports
Ceramic disc cartridges
Quick connect spout installation
NPS connections
Handheld shower
18 GPM (average) @ 60 PSI
Other options
Hand shower wall slider bar, chrome finish (standard)
Hand shower wall slider bar, chrome finished (all brass)
Additional safety grab bar
Headrest pillow
Aromatherapy kits
Ozone sterilizer
Chromatherapy system (red, blue, and / or green LED lights)
L-shaped curtain & rod
Water inline heater
Warranty
Lifetime limited warranty on stainless steel frame, door, door seal, and tub shell
2 Year limited parts warranty
---