CARE Series 3052 Soaker Walk-in Tub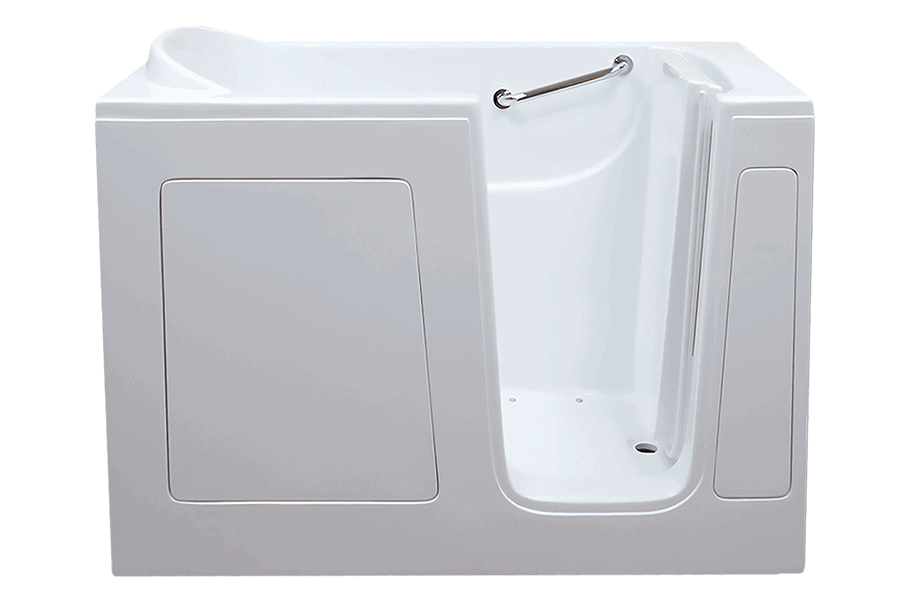 ---
The CARE 3052 is a wonderfully roomy model which has been designed to fit into small spaces. Although this is one our more compact models, it boasts a 40″ height, providing ample upper body immersion.  The size and flangeless design of this model help to reduce the time and cost of installation by eliminating the need for door widening and also by preserving the existing tile work of your bathtub's surround.  This tub is optimal for individuals between 100 lbs.-250 lbs. who need a luxurious, safe and health promoting bathing experience in the privacy of their own home.
Safety
The CARE 3052 has been built with several, standard safety features to provide you with a secure bathing environment.
Easy and convenient, user friendly design.
Inswing, low 6″ threshold, water tight, doorway with a silicone rubber door seal, an 18" opening , and a lifetime warranty.
ADA compliant, 17″ high, 23″ wide, contoured seat.
Non-slip flooring.Integrated safety bar.
Mounted U-bar.
Easy to use cable actuated drain and overflow kit.
Door Drain to eliminate water from escaping onto your bathroom flooring.
Comfort and Convenience
When designing the CARE 3052, your satisfaction is our main motivation. This model is constructed to replace an existing shower or bath stall and it comes with the following features to make the installation of your new walk-in tub as worry free as possible:
Measurements of 30″(W) x 52″ (L) x 40″(H) to fit conveniently through doorways, hallways and stairwells.
Flangeless design to preserve existing tile work around bathtub or shower stalls.
Optional flange kit available.
8″ extension kit to fit a standard 60″ bathtub or shower stall opening.
Easy to use access maintenance panels.
End panels for 2 wall installation.
Quality
The CARE 3052, like all American Tubs walk-in tub models, is constructed with the highest quality components available.  The CARE 3052 is offered with a limited lifetime warranty and it's manufactured to meet strict industry standards:
Fabricated with woven marine-grade fiberglass.
Coated with a durable, triple gel coat, high gloss  finish that offers beauty and durability.
Each tub basin in secured into a one-piece, stainless-steel frame.
6 adjustable leveling legs are retrofitted to the tub's frame.
Shell and door certified for IAMPO and UPC standards.
All electrical components pass strict, UL Certification.
Fixtures and Fittings
We are pleased to offer you several, easy to use and stylishly designed fixtures and fittings to complement your bathing experience and bring a beautiful aesthetic to your bathroom's decor:
5-piece, chrome plated faucet sets with solid brass construction. Each set comes with hot and cold water taps, and an easy to use diverter handle for operating the hand held shower piece.
1 1/2″ cable actuated drain and overflow kit.
Optional 2″ Hurry Drain™ to drain your tub's water in 110 seconds or less depending on the efficiency of your household plumbing.

Hurry Drain™

Optional toe drain for added security.
Optional Speedy Fill 3/4″ faucet that attaches to a standard 1/2″ pipe for faster fill of your tub's water.
Optional shower slide bar designed with solid brass construction and chrome plating.
Optional Glass Door.
Optional Shower Curtain, L-rod, and shower curtain rings.
Customize
We have several, optional features to choose from to make your walk-in bathing experience perfect for you and your specific health care needs:
Hydromassage: 10 water massage jets are strategically positioned to hit key pressure points on your back, legs and feet to stimulate sore and aching joints and muscles.
Air Massage: 20 state of the art air jets are positioned at your hips and legs to deliver a light massage that promotes healthy circulation for better cardiovascular health.
Dual Air and Hydromassage:

Aromatherapy

Experience the combined benefits of air and water massage with this dual system for better overall health and wellness.
Microbubbles: With bubbles one-fifth the size of a typical air bubble, this system gently penetrates the pores of your skin, removing oils, dirt and odor and leaving your skin feeling refreshed for days after use.
Aromatherapy: Experience the healing power of scent on your mind and body.
Chromotherapy: An LED light is positioned in your tub's basin which emits light for color therapy. Cycle through the entire rainbow color spectrum or settle on particular colors that enhances your mood and wellness.
Spa Pillow Neck Pillow
Cushioned Seat

Chromotherapy light

Heated Seat
Bidet Jet
Bathing Support Harness

Thermostatic Mixing Valve
What's Next?
Do you have questions? Would you like to learn more about how a walk-in tub could be a brilliant investment for your health and quality of life? Call today (800) 577-8475. We have knowledgeable and friendly staff standing by to take your call. We look forward to speaking with you.
Specifications
| | |
| --- | --- |
| Actual size (W x L x H) | 30″ x 52″ x 40″ |
| Shipping size (W x L x H) | 31″ x 55″ x 45″ |
| Seat Height | 17″ |
| Seat Width | 23″ |
| Seat Depth | 14″ |
| Door Opening Width | 18″ |
| Inside length | 46.5″ |
| Water Capacity (Gal.) | 68 |
| Colors Available | White / Biscuit |
| Door Opening / Drian | Left or Right |
| Wall Tiles Flange | None (easy-to-install) or 2 sides |
---
---
Features
Tub Shell (gel coated fiberglass)
High-quality fiberglass material
Excellent color uniformity
Durable gel coat surface
Easy-to-clean high-gloss finish
Door sill with silicone rubber seal
Wall extension kit to fit any standard 60″ tub opening
Removable access panel
Safety Features
Anti-slip floor
Built-in safety bar
Leak-resistant door drain
Light-weight movable door
Optional Features
Therapeutic Air Massage System
Twenty (20) all brass chrome air jets
110V – 120V Standard Plug-in, 1hp Hydro Pump
Pneumatic push control, chrome colored
Faucets
Faucet with hand shower is mounted on the deck of the tub.
Five (5) piece brass roman faucet in chrome color
Jewel arched solid brass spout
3/4″ Valve, 3/4″ ports
Ceramic disc cartridges
Quick connect spout installation
NPS connections
Handheld shower
18 GPM (average) @ 60 PSI
Other options
Hand shower wall slider bar, chrome finish (standard)
Hand shower wall slider bar chrome finished (all brass)
Additional safety grab bar
Headrest pillow
Aromatherapy kits
Ozone sterilizer
Chromatherapy system (red, blue, and / or green LED lights)
L-shaped curtain & rod
Water inline heater
Warranty
Lifetime limited warranty on stainless steel frame, door, door seal, and tub shell
2 Year limited parts warranty