CARE Series 3052 Soaker Walk-in Tub
"Every bath in my walk-in tub is its own unique experience. Each time, I enjoy different features of the tub. In particular, I find the walk-in tub experience isotonic. The tub's jets provide me with a muscular workout. After the bath, I truly feel like I've received a massage by a therapist. The bath's spa action also makes me feel cleaner now that my range of motion is limited."
— Caroline A., Carrollton, TX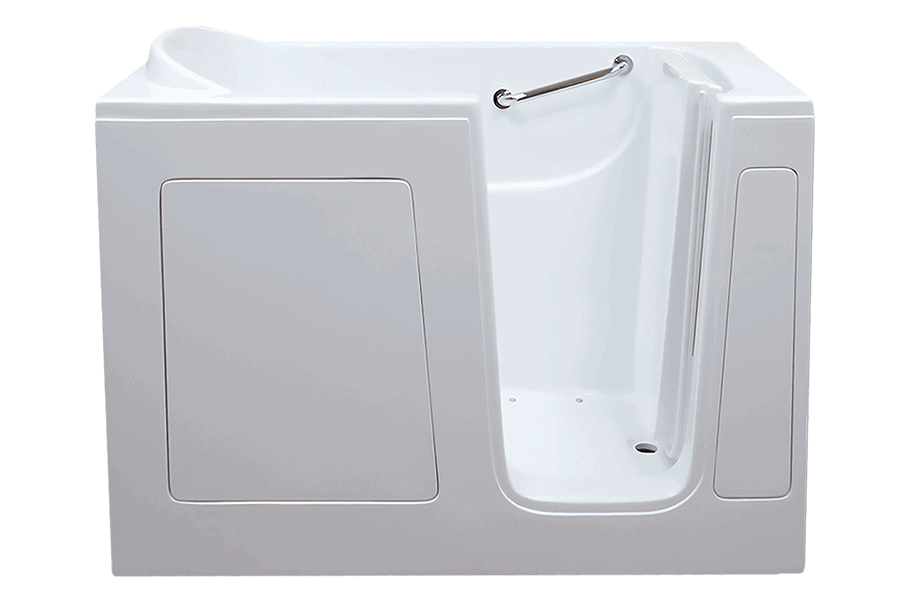 ---
Safety
The Care 3052 is a very spacious model, perfect for those who are in the market for a walk-in tub which allows for comfort, motility, and safety. With a low, 6″ threshold, the CARE 3052 provides safe passage into and out of the bathtub. The bathroom can be a sanctuary, but it can also be a dangerous place for seniors and those with mobility concerns. Statistics show that the elderly sustain half their injuries in the bathroom.  We design our walk-in tubs to abate these injuries and restore your confidence for an ambient bathing experience, every time. Enjoy the water-tight, V-shaped, inswing door of the CARE 3052 with an ergonomically designed, easy grip handle. Upon entering the tub, you can enjoy the safety of a textured, non-slip floor which allows the bather to have firm footing while maneuvering themselves around the bath. In addition, The CARE 3052 comes with a fully integrated safety bar and a U-bar to aide in sitting, standing, and adjusting oneself while in the bath. Our ADA compliant, contoured seat is perfectly nestled inside your tub to provide the bather with security and comfort. Make your bathroom the sanctuary that it should be. Savor the consoling shelter of the CARE 3052, which will leave you feeling fresh, clean, and invigorated, every time.
Comfort and Convenience
We aim to make your bathing experience stunningly relaxing, every time. Designed to allow for plenty of bathing space the CARE 3052 measures at 30(W) x 51.5(L) x 40(H), so there is ample room to adjust your water to a level that is optimal for you. This model is constructed to replace your existing shower stall, and it comes with a wall extension kit to fit in a standard 60″ opening. This ensures that installation will be seamless, and your bathroom design will be beautifully enhanced by your new walk-in tub. We also provide a tile flange kit, which not only allows for the preservation of your existing tile work, but it also lowers both the cost and duration of your installation. Your comfort is important to us. The CARE 3052 was designed with your comfort as a top priority.
Quality
We take great pleasure in offering you the highest quality walk-in tub on the market. We are constantly reviewing our systems and approaches to manufacturing the very best walk-in tub available. Each one of our walk-in tubs is constructed with a one-piece, stainless steel frame which means that you are getting the strongest structure in the walk-in tub industry. We use woven, marine grade fiberglass in your tub's construction, thereby providing you with a durable, reliable, and long-lasting product that you can put your faith in. Other walk-in tub companies use inferior materials such as acrylic or plastic in their designs. These materials crack easily, not affording the same resiliency over time. Each of our tubs is coated with a triple layer gel coat finish, which adds a beautiful, long lasting shine to your tub's surface while also making it easier to clean. Our tubs come in either biscuit or white so that your new walk-in tub will match virtually any existing bathroom décor. Before our tubs leave our factory, they pass rigorous UL inspection and certification. Having one of our walk in tubs means that you have a walk-in tub that is safe, convenient to use, luxurious, and of the highest quality available.
Fixtures and Fittings
The inspiration behind the design of every bathtub we make is luxury, safety, and functionality. With this in mind, we have several beautiful, durable, and practical fixtures that come standard with your CARE 3052. Enjoy your very own, chrome plated faucet set, elegantly crafted with solid brass construction and set with hot and cold water taps and a convenient diverter handle to adjust your water temperature. An optional hand held shower hand piece is also available so that you can enjoy both a bath and/or a shower. Recline in your ergonomically constructed, contoured 23″ seat, which lends a luxurious element of relaxation to each bath time. Each of our walk-in tubs comes with a standard 1.5″ drain. You may wish to opt for our 2″ Hurry Drain and secondary toe drain. This feature allows your tub to drain in 110 seconds or less depending on your water level and the efficiency of your household plumbing.  
Customize
We have several customizable features to complement your walk-in tub and enhance your daily bathing routine. Diminish aches and pains and experience effervescent relief with our Dual Hydro and Air Massage System. Ten powerful hydro jets in a V-shaped configuration target the mid to lower back, the back of the legs, and the bottom of the feet. When the bather is reclined, these water jets provide a massaging cushion of pressure for the upper back. Twenty state-of-the-art, 3-speed adjustable air jets are distributed on the periphery of the seat and the floor of your tub. By promoting circulation in key areas of your body, these air jets help to alleviate stress and discomfort. This system also has an automatic cleaning feature which eliminates the stress of constant maintenance.  Our Chromatherapy feature utilizes the healing power of light to effect your mood and promote well being, while our Aromatherapy option harnesses the power of various scents to relieve stress and leave you feeling lighthearted and refreshed. To learn more about other optional features such as Ozone Sanitation, neck pillows, seat cushions and more, please visit our features page. Treat yourself to an in-home spa experience with a new walk-in tub, to feel healthy, refreshed, clean, and energized. You deserve it!
Specifications
| | |
| --- | --- |
| Actual size (W x L x H) | 30″ x 52″ x 40″ |
| Shipping size (W x L x H) | 31″ x 55″ x 45″ |
| Seat Height | 17″ |
| Seat Width | 23″ |
| Seat Depth | 14″ |
| Door Opening Width | 18″ |
| Inside length | 46.5″ |
| Water Capacity (Gal.) | 68 |
| Colors Available | White / Biscuit |
| Door Opening / Drian | Left or Right |
| Wall Tiles Flange | None (easy-to-install) or 2 sides |
---
---
Features
Tub Shell (gel coated fiberglass)
High-quality fiberglass material
Excellent color uniformity
Durable gel coat surface
Easy-to-clean high-gloss finish
Door sill with silicone rubber seal
Wall extension kit to fit any standard 60″ tub opening
Removable access panel
Safety Features
Anti-slip floor
Built-in safety bar
Leak-resistant door drain
Light-weight movable door
Optional Features
Therapeutic Air Massage System
Twenty (20) all brass chrome air jets
110V – 120V Standard Plug-in, 1hp Hydro Pump
Pneumatic push control, chrome colored
Faucets
Faucet with hand shower is mounted on the deck of the tub.
Five (5) piece brass roman faucet in chrome color
Jewel arched solid brass spout
3/4″ Valve, 3/4″ ports
Ceramic disc cartridges
Quick connect spout installation
NPS connections
Handheld shower
18 GPM (average) @ 60 PSI
Other options
Hand shower wall slider bar, chrome finish (standard)
Hand shower wall slider bar chrome finished (all brass)
Additional safety grab bar
Headrest pillow
Aromatherapy kits
Ozone sterilizer
Chromatherapy system (red, blue, and / or green LED lights)
L-shaped curtain & rod
Water inline heater
Warranty
Lifetime limited warranty on stainless steel frame, door, door seal, and tub shell
2 Year limited parts warranty