LOVE Series 3052 Wheelchair Accessible Walk-in Tub
"My walk-in bathtub is absolutely wonderful. I talk about it all the time with my friends and I use my tub every night."
– Sharon L. Oklahoma City, Oklahoma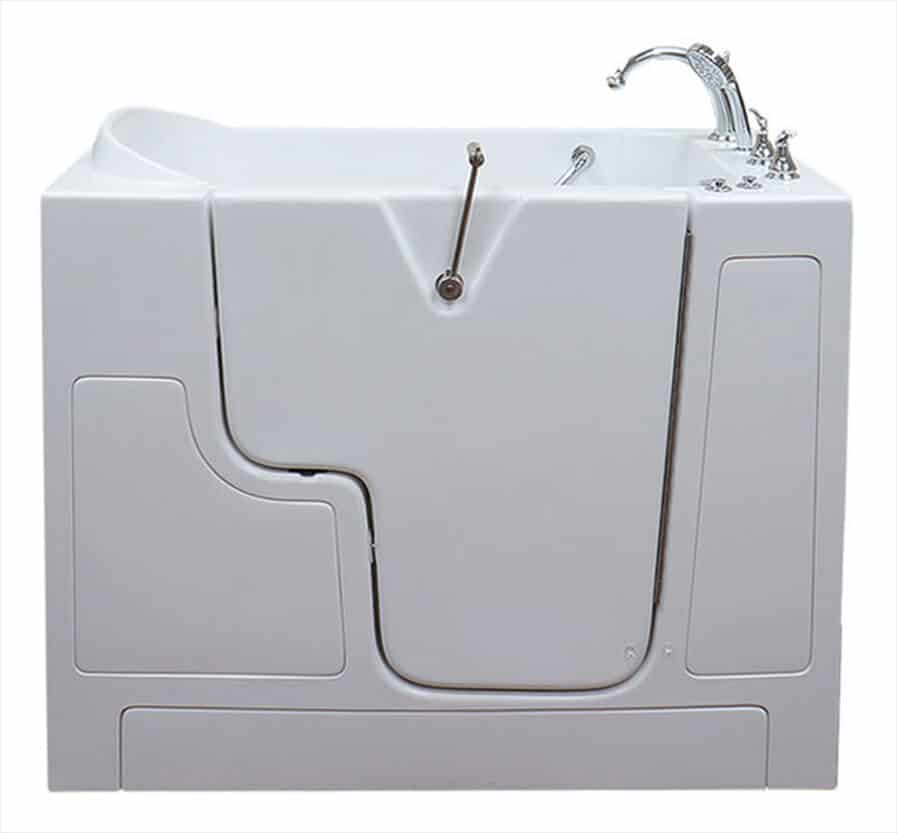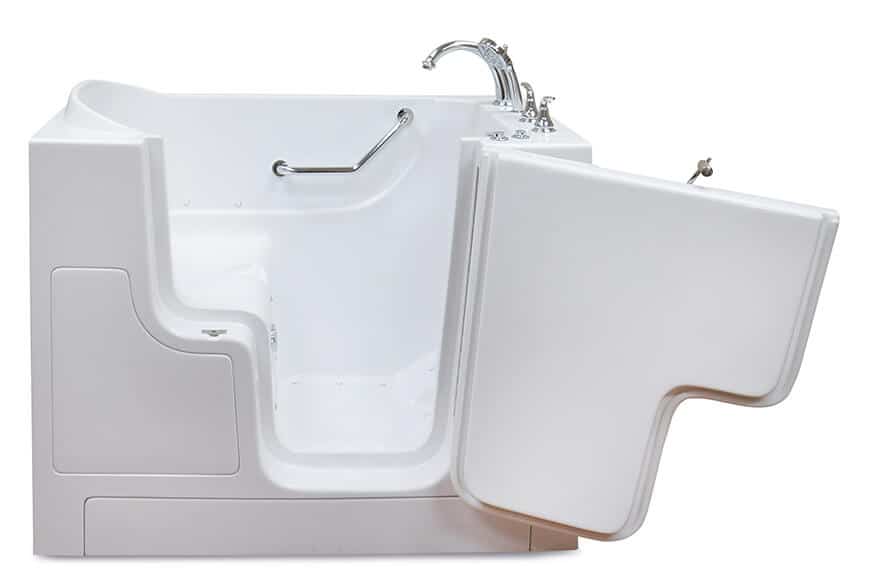 ---
Safety
The LOVE 3052 is a classically designed, standard sized tub that is perfect for wheelchair access. Your safety is our top priority. The bathroom can be a dangerous place due to wet surfaces that can cause serious injuries. Therefore, we have engineered the LOVE 3052 with an ergonomic, user-friendly design to help you avoid preventable injuries in the bathroom. This model is constructed with a 30″, S-shaped door that allows generous clearance to the tub's seat. Furthermore, this bath tub can either be raised or lowered during installation for wheelchair users, to accommodate for easy transfer into and out of the bath tub. Our cleverly crafted out-swing door has a long, slender door handle that requires minimum grip and a secure locking system for the water-tight door seal which provides added peace of mind. The LOVE 3052 also comes with an integrated, interior grab bar, a mounted U-bar, and a non-slip, textured floor for added security.   The LOVE 3052 is designed to ensure that individuals experience a safe and satisfying bathing experience from start to finish.
Comfort and Convenience
For spaciousness and maneuverability, this model measures at 30(W) x 52(L) x 40(H). There is ample water capacity and room to recline, to unwind, and to let the water envelope you as you enjoy a relaxing soak in the sanctuary of your walk-in tub. This model also contains a comfortable, contoured seat, measuring 23″ wide, and nestled inside the tub to enhance your ability to relax while you soak away the day's cares. To ensure easy installation, the LOVE 3052 is designed to replace your existing bath tub or shower stall, and it comes with an extension kit to perfectly fill a standard 60″ opening. Furthermore, the flangeless design allows you to preserve your existing tile work, saving both time and money on your installation. An optional tile flange kit can be requested for new tile or surround, ensuring your bathing area is water tight. We aim to provide you with a simple and  worry free installation and a bathing experience that is optimal for you and your pocketbook.
Quality
Quality is also integral to our mission. We take pride in offering our customers the very best walk-in tubs on the market. The LOVE 3052 is constructed with a sturdy, one piece, stainless steel frame with 6 adjustable leveling legs to ensure that your bath tub has excellent alignment and balance. This model is also manufactured with the finest, woven, marine-grade fiberglass composites on the market today. This ensures that your bath tub is made of materials of the highest strength and durability. We finish this model with a triple gel coat finish. This is a wonderful feature which not only makes your bath easy to clean, but it also provides a resilient finish that will last a lifetime. In addition, to provide a standard color scheme, the LOVE 3052 walk-in tub comes in either biscuit or white. These are colors that brilliantly blend with virtually any existing bathroom décor.
Fittings and Fixtures
The LOVE 3052 is manufactured with a beautiful and resilient chrome plated faucet set, which is fitted with easy to use hot and cold water handles alongside a user-friendly diverter. The multifunctional, adjustable, and extendable hand-held shower handpiece comes standard so that you can shower as well as bathe.  Our walk-in tubs come equipped with a 1.5″ cable operated drain making draining the tub effortless. The integrated door drain keeps the door threshold free of excess, hazardous water. Most buyers opt for our patented 2″ Hurry Drain which enables your tub to drain in roughly 110 seconds, depending on water level and household plumbing. 
Customize
The LOVE 3052 is customizable with any of our added, comfort features. Relieve muscle and joint pain with our Hydro Massage system which targets specific areas of the body including the lower back, calves, and bottom of the feet. We also offer an Air Massage System equipped with 20 state-of-the-art jets. This system offers a lighter massage which is beneficial for nerve endings and promotes healthy circulation. You may also enjoy our Chroma and/or Aromatherapy options which promote healing and a sense of well being. In addition, we provide an optional, maintenance free Ozone Purification System which sanitizes your walk-in tub's surfaces and massage system piping, eliminating potentially harmful bacteria and leaving your walk-in bathtub clean and fresh for its next use. Visit our features page for additional options that can give you your own, unique, healing, and invigorating bathing experience, every time you bathe.
"Beautiful job by our local installer. Everything is easy about the bathtub. I show the tub to everyone I can."
– Charles G. W, Tyler, TX
Specifications
| | |
| --- | --- |
| Actual size (W x L x H) | 30″ x 52″ x 40″ |
| Shipping size (W x L x H) | 31″ x 54″ x 48″ |
| Seat Height | 17″ |
| Seat Width | 23″ |
| Seat Depth | 14″ |
| Door Opening Width | 28″ |
| Inside Length | 42.5″ |
| Water Capacity (Gal.) | 68 |
| Colors Available | White / Biscuit |
| Door Opening / Drain | Left or Right |
| Wall Tiles Flange | None (easy to install) |
---
---